misfit
— n

1.
a person not suited in behaviour or attitude to a particular social environment

Yep. I've been a misfit in so many different environments, in so many different ways. Depending on the situation, my abilities, attitudes, voice, background, looks, and personality have failed to fit in one way or another.

In fact, I feel like a misfit in pretty much every situation. I'm not like the other rabbis, or the other moms. I'm generally pretty at home in the writing community, but even y'all have to admit that YA superhero origin romance stories are pretty few and far between.

*insert shaky smile*

Which is why I'm so honored to be one of the founding YA Misfits - a ragtag group of Young Adult writers who are changing the world of YA Lit, one novel at a time.

Speaking of superheroes. I think I always loved them because being a superhero was about being a misfit, and finding your place in the world anyway. The supervillains were the ones who got angry and tried to exact revenge. But the heroes...they were something special.

They were misfits, and they were damaged, yeah. But they turned that into something positive. It may have taken them a long time to get there, but they were courageous, and determined. They found their place in the world by making their misfit-ness into something awesome, into a contribution, instead of something to be ashamed of.

I guess I wrote a superhero novel because I hope to do the same thing.



In celebration of the YA Misfits' launch today,

I'm giving away two superhero DVDs,

full of misfitty awesomeness, that inspired me to write about kids who turned their different-ness into awesomeness.


(Also, I named my main characters after a character from each of them. I HAVE to share.)


The Avengers: Earth's Mightiest Heroes:
Volume 1
There's Jan VanDyne, AKA "The Wasp," Elias's namesake. She is FIERCE.
X-men Volume One
(The awesome 1992 cartoon. Yes.)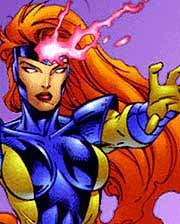 Aaaand here's Jean Grey:
total badass, quintessential smart-girl heroine, and Merrin's namesake.
One entry for doing each of the following:
(just tell me you did it in your comment - I trust you.)
1. Follow the YAMisfits blog
2. Follow the YAMisfits on Twitter
3. Enter the YA Misfits Launch KINDLE GIVEAWAY.
4. Follow this blog.
5. Follow me on Twitter.
6. "Like" me on Facebook.
(hey, don't judge.)
7.
Tell me your favorite superhero, or, heck, ANY misfit character.
The giveaway ends on Thursday at noon, so you can have your DVDs for your weekend viewing pleasure.
U.S. only, I'm afraid. :(

Thanks so much for coming over, and GOOD LUCK!!!